Merry christmas & happy holidays from ME Events!! This year we thought that we would share a fun and easy holiday favor idea for those of you who love DIY gifts. You can use your own special recipe or the one listed below.
COOKIES IN A JAR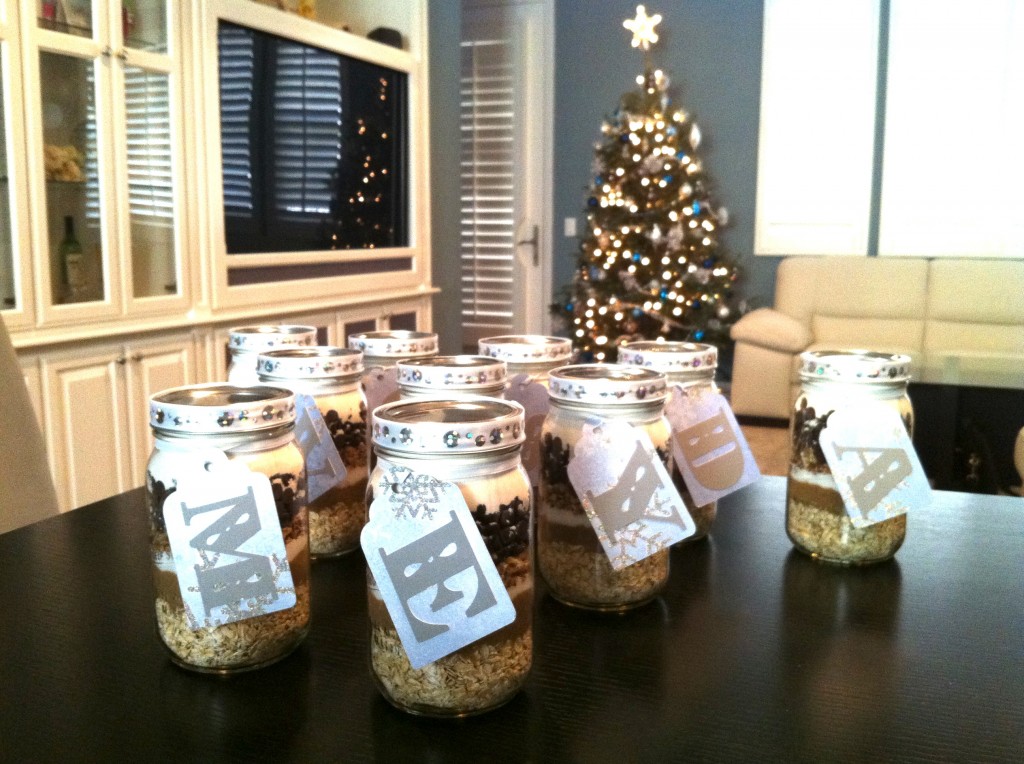 What you need to make a dozen jars:
12 quart sized mason jars
note: these can be purchased at your local grocery store, target or even costco
12 tags
note: this is where you can get creative with your own personal touch.  on the back of the tag, you will need to leave instructions with how to bake the cookies
9 yards of your favorite 3/8″ ribbon
note: swap this out for another ribbon and it could be a baby shower favor, bridal shower favor or valentines day treat!
15.6 cups of rolled oats
6 cups of packed brown sugar (about 3 bags)
6 cups of white sugar
6 cups of chopped pecans (about 2 bags)
12 cups of semisweet chocolate chips (about 6 bags)
15.6 cups of all-purpose flour
12 teaspoons of baking powder
12 teaspoons of baking soda
3 teaspoons of salt
Prep:
Fill each jar with the following ingredients in the order listed below. Be sure to pack each layer as you fill the jar with ingredients (you'll need the space!)
1 1/3 cups rolled oats
1/2 cup packed brown sugar
1/2 cup white sugar
1/2 cup chopped pecans
1 1/3 cups all-purpose flour
1 teaspoon baking powder
1 teaspoon baking soda
1/4 teaspoon salt
1 cup semisweet chocolate chips
On the tag include the following instructions:
Preheat oven to 350 degrees F and grease cookie sheets. In a medium bowl, mix together 1/2 cup melted butter or margarine, 1 egg, and 1 teaspoon of vanilla. Stir in the entire contents of the jar. You may need to use your hands to finish mixing. shape into walnut sized balls and place 2 inches apart on prepared cookie sheets. Bake for 11 to 13 minutes. transfer from cookie sheets to cool on wire racks. You should make about 3 dozen chocolate chip pecan cookies.
To decorate the jar:
Simply tie on your personalized tags with double sided tape, wrap your favorite ribbon on the lid.
ENJOY!