So this post is WAAAAY late… Cecilia actually started working with us back in June and has helped us with numerous events already. So she's not really "new" anymore. But better late than never right??
Cecilia is an awesome addition to our team. She's very detail oriented, driven, organized and definitely has what it takes to make a successful event coordinator! And this is actually the THIRD time we've worked together! We just can't seem to get enough of each other….
Hope you enjoy her 10 random facts!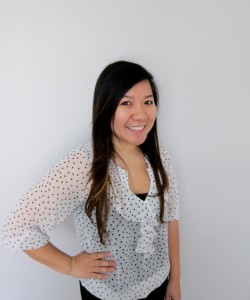 1. Feet gross me out.
2. I have really ticklish knees.
3. I love to eat hot dogs mixed in my mac n cheese with ketchup.
4. I took four years of French in high school but can only remember how to say my name.
5. I was and secretly at heart still a band geek.
6. If I could, I'd eat ice cream for breakfast, lunch and dinner.
7. I went sky diving for the first time last year and got the worse case of motion sickness from it.
8. I'm a proud aunt of 4 nieces and 3 nephews.
9. I'm currently learning how to play the ukulele.
10. My favorite past time is people watching.